Expert Water Line Repair and Service
in Metro Atlanta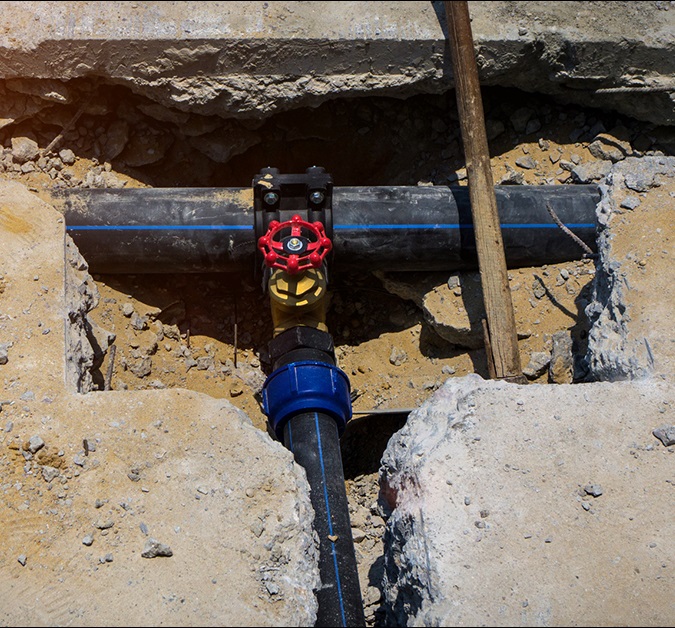 Every month, it seems as if your water bill is steadily increasing. Yet, your family doesn't seem to be using more water from one month to the next. An unexplained jump in your water bill is often a sign that there's a leak somewhere in your pipes. In some instances, the leak can be in the water line that delivers water to your home.
A number of factors can cause damage to the main water line over time. Tree roots can grow into the pipe, minerals can build up on the inside of the line and changes in soil temperature can put pressure on the pipe and weaken it. In some cases, the pipe itself might simply be old, worn out and in need of replacement.
Sometimes, the signs that a water line needs repair are visible. If the leak in the water line is large enough, puddles of water will often form on the surface of your yard. You might notice that the ground is very soggy in certain areas, even if there is no pooled water. In severe cases, water can flood into your home, causing extensive damage.
In the Atlanta metro area, Ragsdale Heating, Air & Plumbing is one of the few companies that offers trenchless water line repair. Instead of digging up your yard to find and fix the leak, our highly trained technicians use a number of advanced technologies to fix the problem.

Our trenchless water line repair options, trained and vetted technicians and flat-rate pricing structure has earned Ragsdale more than 1,000 five-star reviews. Whether you've just noticed an increase in your water bills or are seeing puddles of water on your yard, contact us today to see how we can fix your water main.
Outstanding Knowledge
The gentleman that came out has an outstanding working knowledge of your industry. He supplied all options, therefore I believe he is a valuable employee to Ragsdale H/A. Thanks for the quote.
Friendly and Efficient
Tech was very friendly and efficient was a great experience Office personnel also very friendly and prompt to get my needs taking care of Would and will highly recommend them to anyone and everyone who my need service to their HVAC systems Thank you.
Someone We Can Trust!
Ragsdale is someone we can trust! They always come when they tell us and even call us a few minutes before they arrive. They are honest about what they find and never charge for things we don't need!! We wouldn't trust our home system to anyone else!
Very Pleased
We just purchased a new a/c system and had it installed by Ragsdale. Every step of the process was handled efficiently, and with great courtesy. Everyone was very nice, informative and strove to provide great service. The new system is awesome! Very pleased.
Great Experience
Had a great experience with Ragsdale. I've been a customer of theirs for so many years. The technician was nice and friendly. Did my yearly check up and there was no problems. Thank you!
Professional and Knowledgeable
Had an urgent call, chipmunk chewed through wires, and Mark with Ragsdale Heating and Air was out in less than 2-hours as a work in customer. I request Mark for all my maintenance during the year. He is professional, knowledgeable in his trade and an all around nice guy.
Prompt and Professional
Allen was so kind and personable. Diagnosed the problem quickly. Re-lit the pilot light on water heater and warned me I'd have to replace it soon. Gave me an estimate. Unfortunately, I needed to replace the water heater the following day, but the next plumber was able to do it seamlessly based on Allen's report. I would definitely use this service again! Prompt and professional!