Expert Water Line Repair and Service
in Metro Atlanta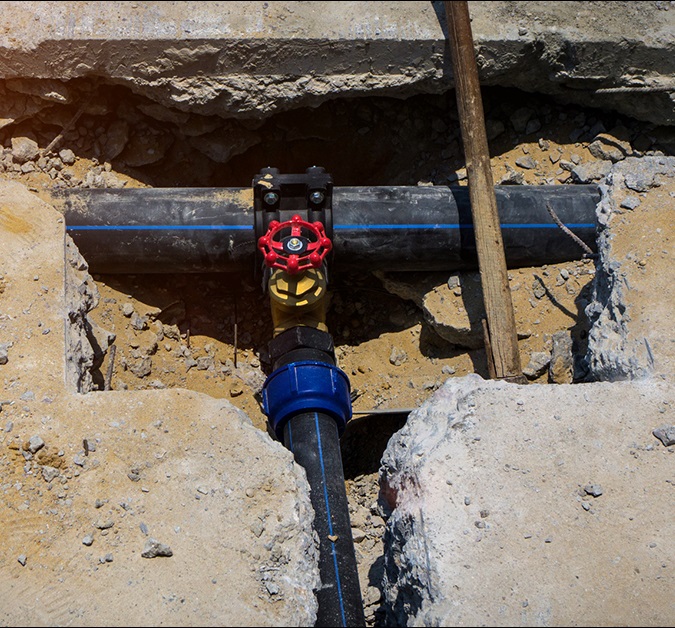 Every month, it seems as if your water bill is steadily increasing. Yet, your family doesn't seem to be using more water from one month to the next. An unexplained jump in your water bill is often a sign that there's a leak somewhere in your pipes. In some instances, the leak can be in the water line that delivers water to your home.
A number of factors can cause damage to the main water line over time. Tree roots can grow into the pipe, minerals can build up on the inside of the line and changes in soil temperature can put pressure on the pipe and weaken it. In some cases, the pipe itself might simply be old, worn out and in need of replacement.
Sometimes, the signs that a water line needs repair are visible. If the leak in the water line is large enough, puddles of water will often form on the surface of your yard. You might notice that the ground is very soggy in certain areas, even if there is no pooled water. In severe cases, water can flood into your home, causing extensive damage.
In the Atlanta metro area, Ragsdale Heating, Air & Plumbing is one of the few companies that offers trenchless water line repair. Instead of digging up your yard to find and fix the leak, our highly trained technicians use a number of advanced technologies to fix the problem.

Our trenchless water line repair options, trained and vetted technicians and flat-rate pricing structure has earned Ragsdale more than 1,000 five-star reviews. Whether you've just noticed an increase in your water bills or are seeing puddles of water on your yard, contact us today to see how we can fix your water main.
The Best
By far the best company I have worked with. Everyone is very friendly, knowledgable, and has my best interests in mind. I was absolutely shocked by the quick response time. I loved that everyone who came to my house explained the issues, the product, and thoroughly answered any questions that I had. I will definitely be a lifetime customer and recommend Ragsdale to anyone needing HVAC or plumbing.
Highly Recommended
My AC unit was affected by a lightning storm on Sunday. I called Ragsdale to get emergency service since we all know how HOT it gets in Georgia. I received a call back from the technician (Patrick) and he said he would be there in about 30mins. His arrival time was accurate and he got right to work diagnosing the issue after I explained what happened.
Keep Up The Good Work!
So glad we have Ragsdale taking care of our family! They have taken care of our heating and air conditioning, as well as, our plumbing needs for years. We enjoy every minute of our Gold plan status
The Premiere Choice
Ragsdale Heating, Air & Plumbing is by far the premiere choice for our area. Our experiences with the company have been phenomenal and my husband and I know we will continue to use this organization for all future needs.
Thank You, Ragsdale!
I called Ragsdale around 9am and they informed me that they could have someone out after lunch. I was so relieved! Then I got a call from them about an hour later saying that someone could be there in 30 minutes. THANK YOU, RAGSDALE! I was prepared to be without water for at least a day! Your guys are very professional and efficient. We will definitely call you in the future!
Professional and Pleasant
Michael was awesome, he arrived within the hour on an after hours call. He was professional and pleasant with tons of knowledge. He was in and out in about 30 minutes and accurately diagnosed/ fixed our problem. We will use these guys again.