TOILET REPAIR AND REPLACEMENT
Expert Toilet Repair and Replacement
in Metro Atlanta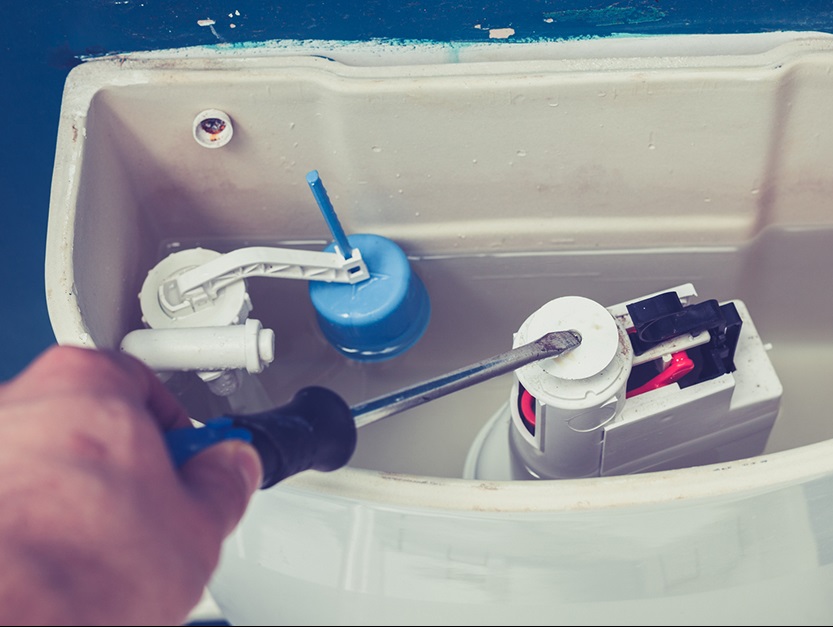 If you had to guess which plumbing fixture used the most water in your home, what would you say? Would you be surprised if it was the toilet?
Toilets account for around 30 percent of the average home's water usage, according to the EPA. The good news is that newer models use far less water than older ones. Toilets installed before the mid-1990s often use six or seven gallons per flush, considerably more water than the 1.6 gallons required by federal law. Many of today's low-flow toilets use 1.28 gallons per flush or even less. Depending on the age of your home's toilets and how they function, it might be time to replace them to lower your water bill.
Toilet repair and replacement does more than lower your home's water usage and water bill. It can also update the look of your bathroom. If you're considering a bathroom remodel, a new toilet is a must.
Some newer models of toilets are designed with comfort in mind. They feature seats that are 17 to 19 inches high, a few inches higher than the average toilet seat. The higher seat makes the toilet easier to sit down on and stand up from.
Water use, looks and comfort aren't the only reasons why you might want to update your toilets. A leaking toilet can spell trouble over time, by damaging the floor beneath it. If there's an issue with the seal or the positioning of the toilet, leaks can occur that cause considerable water damage.
Toilet repair can seem like a quick DIY job, but there's a lot that can go wrong if an inexperienced person tries to replace a toilet. For the sake of your home and your water bills, it's best to call in a highly trained, qualified plumber to do the job.
Every plumber who works with Ragsdale goes through an extensive background check before getting hired for the job. We only work with the best, which is reflected in the more than 1,000 five-star reviews our team has received.
We also offer flat-rate pricing on all our services, which means you'll know what the cost will be at the start of the repair, no matter how long it takes to fix the problem.
Call Ragsdale today to have an expert plumber repair or replace your metro Atlanta home's toilets.
Outstanding Knowledge
The gentleman that came out has an outstanding working knowledge of your industry. He supplied all options, therefore I believe he is a valuable employee to Ragsdale H/A. Thanks for the quote.
Friendly and Efficient
Tech was very friendly and efficient was a great experience Office personnel also very friendly and prompt to get my needs taking care of Would and will highly recommend them to anyone and everyone who my need service to their HVAC systems Thank you.
Someone We Can Trust!
Ragsdale is someone we can trust! They always come when they tell us and even call us a few minutes before they arrive. They are honest about what they find and never charge for things we don't need!! We wouldn't trust our home system to anyone else!
Very Pleased
We just purchased a new a/c system and had it installed by Ragsdale. Every step of the process was handled efficiently, and with great courtesy. Everyone was very nice, informative and strove to provide great service. The new system is awesome! Very pleased.
Great Experience
Had a great experience with Ragsdale. I've been a customer of theirs for so many years. The technician was nice and friendly. Did my yearly check up and there was no problems. Thank you!
Professional and Knowledgeable
Had an urgent call, chipmunk chewed through wires, and Mark with Ragsdale Heating and Air was out in less than 2-hours as a work in customer. I request Mark for all my maintenance during the year. He is professional, knowledgeable in his trade and an all around nice guy.
Prompt and Professional
Allen was so kind and personable. Diagnosed the problem quickly. Re-lit the pilot light on water heater and warned me I'd have to replace it soon. Gave me an estimate. Unfortunately, I needed to replace the water heater the following day, but the next plumber was able to do it seamlessly based on Allen's report. I would definitely use this service again! Prompt and professional!